14 th International Cave Rescue Conference
The 14th International Cave Rescue Conference is going to take place in Ramales de la  Victoria, Alto Asón, Cantabria / Spain from 6th to 9th June 2024.
Establish cooperation among cave rescue organizations of the UIS member countries and regional cave rescue organizations.
CRC has to create communication channels.
This meeting is organized by the Fundación Espeleosocorro Cántabro – ESOCAN on behalf of the UIS Cave Rescue Commission (CRC).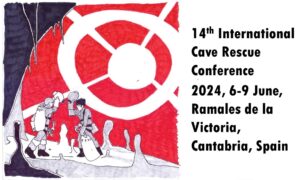 Cave rescue from cavers to cavers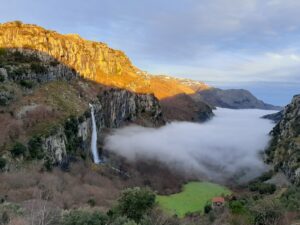 WELCOME MESSAGES
Dear cave rescue team members,
I am pleased to be invited to the 14th International Cave Rescue Conference (ICRC) in Ramales de la Victoria/Cantabria/Spain from 6-9th June 2024.
The UIS Cave Rescue Commission (CRC) is one of the first commissions active since 1965. The activities of the commission go up and down with new generations of cavers and individual enthusiasts who want to share their national and regional experiences in cave rescue techniques internationally. In the present CRC conferences are held every four years in different countries and commission meetings are held on the occasion of ICSes. These meetings deal with various topics of rescue activities such as medicine, technology, communication, responsibility, insurance policy, law and other important aspects. The exchange of information and experience in rescue among UIS member countries.
Caves are everywhere on our planet and so they are open to visitors and cave explorations. Visiting a cave also increases the risk of accidents. Accidents in a cave are caused by various circumstances, from natural (e.g., falling rocks) to human error. Cave rescue teams must be trained, equipped and prepared for different situations, from deep mountain caves to narrow cave labyrinths.
The changing world, and the pandemic in particular, has had a major impact on the activities of UIS and its commissions, i.e., improved communication and international cooperation on karst and cave exploration, research, protection, and conservation, and it is time to improve international communication on cave rescue issues as well.
In collaboration with Fundación Espeleosocoro Cántabro, which is very experienced in organizing cave rescue camps and training meetings, the 14th International Conference is now organized with a wide program, including lectures and trainings, to present the news in cave rescue techniques and share experiences from the field.
The organizers of the 14th International Cave Rescue Conference (ICRC) offer not only a conference with an extensive program, but also an interesting social program. I am convinced that the participants will go home with many new ideas, an increase in knowledge and with an indelible memory of the conference.
I would like to thank the organizers for their efforts in organizing the conference and wish them a successful realization of the program!
Nadja Zupan Hajna, UIS President
 Dear Cave Rescuers,
The UIS Cave Rescue Commission (CRC) was founded in 1965 as one of the first three original Commissions of the UIS. The commission has worked well over the past decades. The CRC held conferences in several countries over the past four years and it also held meetings during the various International Congresses of Speleology (ICS).
Meeting during the last decade dealt with rescue issues including communication, insurance policy, legal concerns, medical training, and responsibility. The meetings provided an opportunity for the UIS members countries to share rescue information and experiences. The most recent conference was held in Vaumarcus/Switzerland in 2015. There was also a 2017 meeting in Sydney, Australia at the 17th ICS. Other activities were suspended in recent years because of the long illness and 2021 death of Christian Dodelin, former president of the commission.
After the passing of Christian Dodelin, the UIS recognized the vital importance of the commission and a meeting was held in July 2022 during the 18th ICS in France, where a Cave Rescue Symposium was scheduled. At this symposium, those present agreed on the importance of reorganizing the commission.
The 14th International Cave Rescue Conference will provide a great opportunity to revitalize the work of the Commission. We will be able to discuss and decide how to continue and develop our efforts in the area of Cave Rescue. The main goals of that CRC are to promote cave rescue and provide information to all UIS member counties. We plan to build closer relationships and collaboration among cave rescue organizations all through the world. We also plan to assist countries where more help is needed to make them more effective as first responders to cave accidents.
This conference will provide an excellent opportunity to get to know each other better, learn from each other's experiences, and strengthen international cooperation. We have been able to share the latest advances in cave diving, rescue management, medical services, and technical support. We will be able to learn from recent rescues throughout the world.
All cavers are invited to this conference. Our expertise in cave rescue will increase thanks to the practices and innovations of others. Rescue effectiveness requires the involvement of many members of the caving community. Cavers must be involved at all levels of the rescue operation, both above ground, and underground.
We hope that this conference will help everyone have a safer experience in the underworld.
HEGEDŰS, Gyula
President of UIS Cave Rescue Commission
14th International Cave Rescue Conference (ICRC)
Date
General program
events
Wednesday 5th June
All day
Arrival
Thursday 6th June
All morning
Registration of the participants
7:30-8:30
Breakfast
9:00-10:00
Opening ceremony
10:00-13:00
Plenary session

HEGEDŰS, Gyula: History of UIS Cave Rescue Commission

13:00-14:00
Lunch
15:00-18:30
Session # 1
Presentations
create organizational structure of CRC.
Workshop or Demonstrations
19:00-20:00
dinner
Friday 7 June
7:30-8:30
Breakfast
9:00-13:00
Session # 2
Presentations
Round Table
Workshop or Demonstrations
13:00-14:00
Lunch
14:00-19:00
Travel
Altamira Museum
Visit caves.
Covalanas
Cullalvera
Cueva Mur
Coventosa
19:00-20:00
dinner
Saturday 8 June
7:30-8:30
Breakfast
9:00-18:00
Cave rescue exercise
9:00-13:00
Session # 3
Presentations
Round Table
Workshop
15:00-18:30
Presentation of the results (plenary session)

Closing

19:00-20:00
barbecue
20:30-00:00
final party
Sunday 9 June
All day
participants' departure
We ask the participants to – in addition to their other presentations – present the organization and operation of cave rescue in their countries.
PARTNERS
Programme
Presentations
All presentations must be offered in English.
Members/participants have opportunity to present important achievements in cave rescue and cave rescue operations.
Time for each presentation will be max. 15min. In a case that a presenter needs more time since he wants to present very important topic, organizer can decide and allow more time.
 The presentations shall be provided from 1 September 2023 to 20 May 2024
Participation Fee
The participation fee is 80 € if paid before 31 March, payable by bank transfer to the ESOCAN Foundation's TRIODOS BANK account (IBAN ES04 1491 0001 2421 4922 4327 BIC/SWIFT TRIOESMMXXX).
You can also pay through our payment gateway. clicking here.
If it is made after 1 April or when registering, the fee will be 100 €. The participation fee includes accommodation, breakfast, lunch, dinner during the ICRC. Drinks and external accommodation go at your own expense.
Online Registration
For registration go to:  Registration Form 2024
Please note the DEADLINES:
ICRC-24              1st June 2024
Check In
At the Meeting Office. Office hours see '
Meeting Office', page 13.
Official Language
The official language of the International Cave Rescue Conference is English.
Simultaneous translation is not available.
Arrival        
Bilbao Airport and Santander Airport are about 65 km away. These airports are accessed by the A8 Motorway and National Highways.